Bristol Gulls
The most sustainable rowing mission in the world: A case study
The Bristol Gulls are on a mission: to make their row across the Atlantic the most sustainable possible, as they raise money and awareness for water pollution and drowning prevention.
They had a big dream, but every member of the team had different priorities when it came to sustainability, and although they'd given themselves an ambitious goal, they weren't sure what that would look like in practice – so they couldn't be sure where to focus their energy or how to make a decision.
They first approached Livvy to help them find the right packaging choices for the food they will take with them. They needed a better solution than single-use materials, that will keep their food dry on a small rowing boat for 40 plus days.
But as we began to dig in, it was clear that they were starting to feel overwhelmed by all the decisions they needed to make. With no clear plan on how to prioritise the issues they care about, no clear definition of what 'the most sustainable row' should look like, and the time pressure of training, fundraising and juggling full time jobs, it's no wonder that it was all feeling too confusing!
With this in mind, we began with a sustainability policy meeting.
Giving everyone a voice: what does sustainability mean to you?
We can't solve all the world's problems in one race, so it was time to get specific.
On a wet evening in February over a portion of polenta chips, I helped the team focus in on their priorities and find common ground.
We began with a writing exercise, helping each member of the team to think about the big sustainability issues and impacts that bother them in the world, as well as what they value most.
When I run these sessions, I encourage participants to dream big. Think about all the people and industries that you would like to influence, the impact you would like to have, and dare to dream about what success would look like.
Deciding the best way forward
From there, we scored (1-5) their impact and influencees, in terms of:
a) how important they were
b) how much influence the Gulls had over these
​
​Of course in an ideal world, we'd be able to achieve all the positive impact we dream of – and we can, but not all at once. Giving this a numerical score helps to prioritise and bring focus to the project.
Everyone makes their contribution, and then we use the scoring data to move forward with the most feasible solutions – which means everyone is heard, and the actions we take forward are decided fairly, helping maintain team spirit and making sure everyone feels brought in to the sustainability policy.
The Bristol Gulls Vision
On completing the 2020 race, the Gulls will have:
– No bin bags or food packaging going to landfill in Antigua or anywhere in the world
– Raised enough money to fund the RNLI fleet and Clean Up Bristol Harbour plans for 2021
Commitments from:
– supporters to change their lifestyles
– other racing community to minimise the impacts of future races, and use Eco Boats from 2021
– boat makers to build Eco Boat across other marine sports
And most importantly the team are all still friends and continue to row after the race
Turning big vision into positive action
A sustainability policy shouldn't be a document that gathers dust – it should inspire your team and give them a practical roadmap to follow.
After our big vision session, I filtered through their scores to identify the highest ranking priorities. These would form the basis of the sustainability policy.
From there, I turned these into SMART targets – giving the team a real plan they could follow. To make sure everyone felt confident, we reviewed these in a follow up meeting. The sustainability policy was well received and is now part of the team's action plan for their race.
We identified at the start of the project that limited time to make a big impact was one of the major challenges the team were facing. Now, with a clear plan to follow and a focused set of objectives, they can make a big impact without spreading themselves too thinly.
They have a clear decision matrix in place to refer back to, which will remove overwhelm and resolve any debates, keeping their work focused on the priority areas they agreed as a team.
With a clear understanding of what sustainability and success looks like for them as a team, they will be able to measure their impact at the end of the race. Often, when we're overwhelmed by sustainability, we feel like we're not doing enough – but with this new framework in place, they will be able to report back to sponsors, supporters and the media on exactly what they did to make this 'the most sustainable race' and what impact that has had.
​
With this impact data and story, they will be more likely to attract media attention and secure sponsors for future projects too.
Do you want to create a sustainability policy?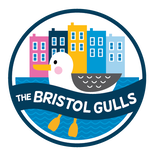 Livvy and the Sustainable Sidekicks played a crucial role in our campaign. Sustainability is such a broad topic, her skills were invaluable in getting us to get clarity and focus. The workshop has given us a direction and a plan that reflects our shared priorities, our capabilities, time and budget.
The Bristol Gulls