Behaviour change theory for environmental changemakers
Understand the barriers and drivers to change so you can be more impactful in your environmental work
In your personal or professional life are you focused on:
Environmental issues
The 3 P's of sustainability
Waste reduction
Carbon reduction and the climate crisis
As an environmental advocate, you're passionate about your cause, and you know that you need other people to buy-in, share your passion and take action!
If you overwhelm people with stats, facts and consequences, they bury their head in the sand – because the truth can be scary.
And trying to get your message out past the echo-chamber is essential – but non-environmentalists don't seem to care, and it can be hard to reach them.
Understanding Behaviour Change principles can help you:
Understand the barriers to change
Work with the levers that can drive change
Reach people outside your echo chamber
Create and run inspiring campaigns that lead to meaningful, widespread change
Are you ready to adopt behavioural science into your pro-environmental work?
Buy the on-demand training
'Behaviour Change Theory for Changemakers'
for these insights:
1.5 hour recording
Topics covered
Values
Stages of change
Cognitive influences
Infrastructure influences
Social influences
Communications
Resources
Pricing to buy now
Buy the on-demand workshop now so you can begin to rethink your approach to changing behaviours.
Free places are available to campaigners from marginalised communities so get in contact!
Aha moments: the importance of positive messages and encouraging right behaviours by reducing friction."
Greg Cooper, Front of Mind Coaching
I think it's been really interesting to get the reminder that other people won't be persuaded by thinking 'I need to do this for the planet' and to relate it to their benefits.
Kathryn Cook, Change Communications Manager, LSBU
It was a great presentation. I liked the presentation of the theories backed up with concrete examples relevant to sustainability. With so much content, I'll definitely be going back through the slides to answer the questions you asked
Heather Davies, Communications Consultant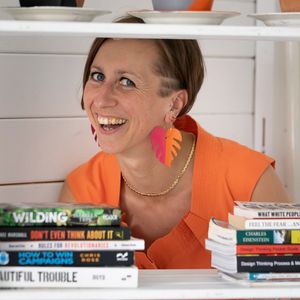 Who am I to be facilitating this session?
I have studied behaviour change at the University of West of England and have a successful track record of applying these principles to award-winning campaigns, including Shambala Festival – addressing waste, recycling and left tent challenges, and City to Sea – Single-use plastic reduction campaigns including Refill, Plastic-free Periods. As well as providing training for Devon Council Reuse Team and the Bristol Reuse Network.
Want something more bespoke?
I can facilitate a workshop for your team to address behaviour change.
Book a no-obligation discovery call to discuss further!