How to create a sustainability policy and action plan with your clients
by Livvy Drake
​
H
ave your clients asked you to make an event 'sustainable', halfway through a project, without any clear definition of what this means leading to confusion and extra work?  
Or perhaps you want to deliver more sustainable events and overcome your client's barriers to this?
​​​You are not alone, so many freelance and agency event managers have been using lockdown focus on sustainable events.  In Mid-April,  

The Sustainable Event Alliance Hackathon

, attracted 500 people from around the world;  whilst our sustainable event and waste workshops, have been well attended.
So where should you begin on your sustainable event planning?

​

From the get-go it's essential that you discuss sustainability measures, so you have a good lead time and have clarity on your client's motivations and priorities.

There is a general perception that sustainability will cost more and whilst certain 'green' materials do- switching materials is not what sustainability is about. And efficiency savings can in one area to pay for more expensive options. Plus the value-add for marketing, PR and customer satisfaction is priceless.
How to co-create a policy with client
Rather than writing up a document and sending it over for your client to approve, I highly recommend hosting a policy meeting with a group of key stakeholders from across the organisation.
This will make the policy meaningful and hold people accountable. It will also avoid those frustrating conversations when a director asks, 'why isn't it a paper-free event'?
I have conducted many of these discussions with corporate festival agencies to nightclub teams.  I start off by asking questions around what matters to people in relation to the 3 pillars of sustainability – people, planet and profit: 
What do they identify as the big issues in the world – what do they care about?  

What are the big issues in the events industry or their event in particular?

What is their vision of the ideal world that addresses all of these?

Then using a prioritisation exercise, I go back over those issues and relate it to their event by asking:

How important is the issue (1-5)

​How much control do we have over the issue (1-5)

​​​
Using this information I would then create a policy that includes: 
Issue statement – what are the core issues you identify  Vision – what is your vision of a better/ ideal future (the dream) Scope of policy – what are the priorities (the highest-scoring areas)  Commitments – what will you do
How to create an action plan
With the priority issues (highest scoring), you need to create SMART targets. This will mean your team, contractors and venue have clarity on what they are working towards.
A plastic-free event is not specific, measurable, achievable, realistic or timely, when you consider that most graphics materials are made from plastic.
A SMART target looks like:
100% plastic bottle free by 2021

75% single-use plastic-free by 2023
An action plan should include: 
The actions required to achieve your targets

When they need to be completed

Who needs to know – so many sustainability initiatives fall down because they are not communicated to key stakeholders

How you will be measuring and monitoring your achievements – accountability is essential especially if you want to tell your clients and audience about your efforts.
Need some step-by-step instructions?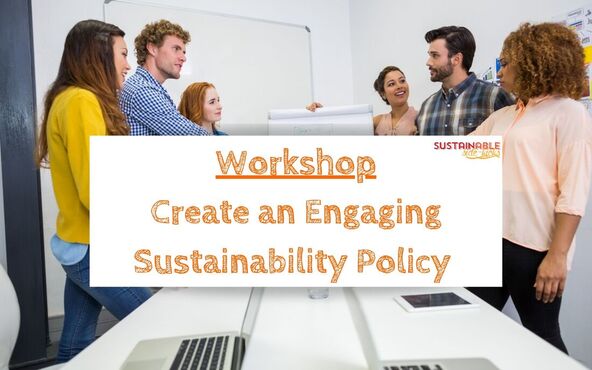 This is a step-by-step process and you will come away with all the documents and templates to create a policy and an action plan. 
There is a special freelancer rate of £59 and there is the option for feedback on your own policies that you create. 
Following this replay, which is a step-by-step workshop you will have the clarity, competence and confidence to create a compelling and meaningful policy. 
You don't need to have a strategy or initiatives in place. This workshop is for organisations, freelancers, event managers and green champions at the beginning of their journeys who have a commitment but don't know where to start. 
On completion you will be able to:
Capture your vision, values and concerns
Create targets and an action plan
Get buy-in from teams and departments

​
10% of all online courses go to grassroots charities.
20% of all consultancy and bespoke workshops go for rewilding.
50 free places are awarded to campaigners from underrepresented communities each year.